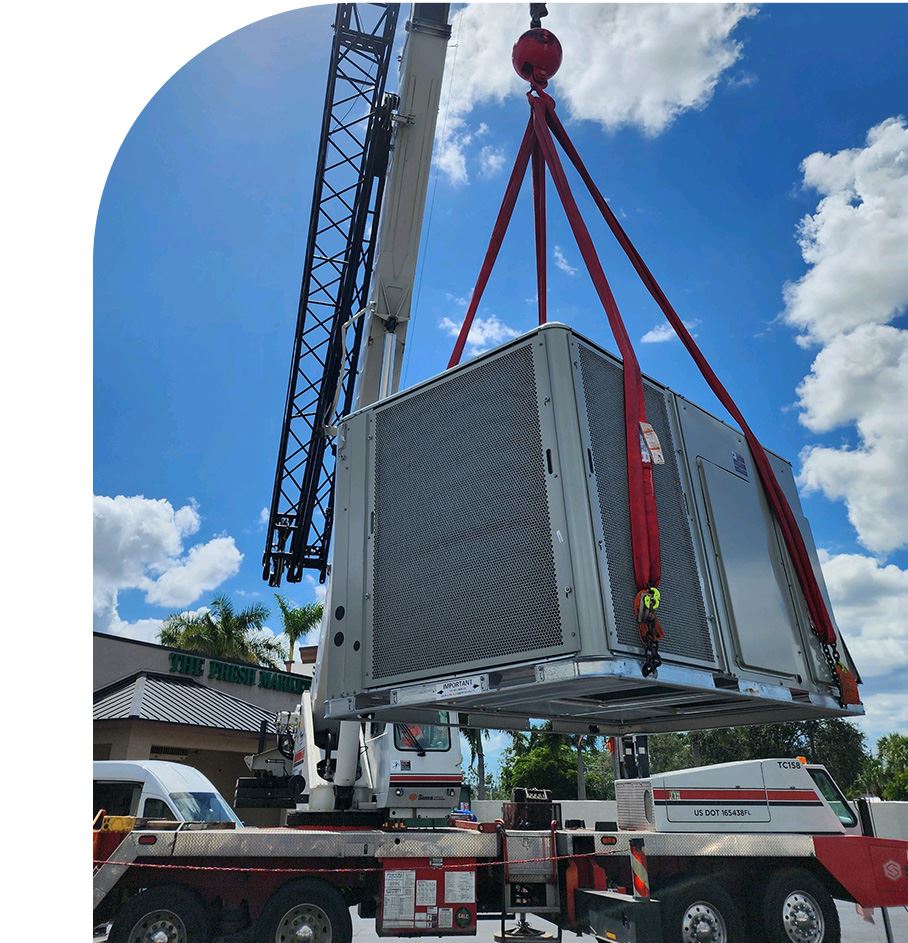 Fort Myers Commercial HVAC Services
Proudly Serving Cape Coral, Bonita Springs & Surrounding Areas
Allied Air Services is your go-to provider for high-quality commercial HVAC services. With a reputation built on excellence and reliability, we are committed to keeping your business running smoothly. Whether you have a small office space or a large commercial facility, no job is too big or too small for our licensed team of professionals. From installation to maintenance and repairs, we deliver top-notch heating and air conditioning solutions tailored to meet your specific needs.
When you want the job done right, turn to Allied Air Services. Our licensed and insured technicians adhere to the highest standards of workmanship and always go above and beyond to deliver excellent results.
Call (239) 893-7560 for high-quality commercial HVAC services in Fort Myers.
Why Choose Allied Air Services?
24/7 Help Available

We're here to help you whenever you need us.

Financing Options Available

We offer a variety of options. Call to learn about the details.

Insured for Your Peace of Mind

Entrust your HVAC needs to licensed, insured professionals.

100% Satisfaction Guarantee

We're so confident you'll be happy with our services, we guarantee it.
How Often Should Commercial HVAC Units Be Replaced?
Commercial HVAC units should typically be replaced every 15 to 20 years. Factors such as the age of the system, regular maintenance, and signs of wear and tear should be considered when determining the need for replacement. It's important to consult with an HVAC professional at Allied Air Services to assess the condition of your HVAC equipment before making a decision. We perform comprehensive performance and safety evaluations to determine your system's overall condition before making any recommendations.
Signs You Need to Service Your Commercial HVAC Equipment
Scheduling an HVAC inspection as soon as you suspect something is wrong with your commercial equipment is crucial to preventing further damage and ensuring the smooth operation of your system. Timely inspections can identify issues early on, allowing for prompt repairs and minimizing potential downtime and costly repairs in the future.
Here are 10 warning signs you need to schedule a commercial HVAC service in Fort Myers:
A sudden increase in energy expenses
Weak or insufficient airflow from the vents
Unpleasant odors coming from the ventilation system
Temperature control issues, such as uneven heating or cooling
Disruptive noises, such as rattling, buzzing, or grinding sounds
Excessive moisture buildup or water leaks around the HVAC system
Unexplained discomfort or complaints from employees or customers
Frequent system breakdowns or recurring problems
Noticeable spikes in utility bills
Strange smells or odors emanating from the HVAC system
Don't ignore the signs that your system isn't working properly. Our technicians are available to diagnose and repair the issue so you can go back to business as usual as soon as possible.
There for You 24/7
We understand the importance of uninterrupted operations, which is why we offer 24/7 emergency HVAC services. We are dedicated to providing you with peace of mind by being available around the clock to address any HVAC issues that may arise. With our commitment to keeping your business running smoothly, you can trust us to do whatever it takes to ensure the comfort and functionality of your HVAC system at any time.
Our licensed professionals are prepared to handle any HVAC emergency, including:
Complete system failure or breakdown
Refrigerant leaks or low refrigerant levels
Electrical issues
Blocked or clogged vents and air ducts
Frozen or malfunctioning evaporator coils
Water leaks or excessive condensation
Unusual or loud noises coming from the HVAC system
Inadequate heating or cooling performance
Gas leaks or strange odors
Call (239) 893-7560for high-quality commercial HVAC services in Fort Myers. We can also be reached through our online contact form.