AC Repairs in Fort Myers
Serving Cape Coral, Bonita Springs & Surrounding Areas Since 2019
When it comes to fast and reliable AC repairs in Fort Myers, Allied Air Services is a trusted name in the industry. Backed by 30+ years of HVAC service experience, our licensed and insured technicians are well-equipped to take on any AC repair that comes our way. We utilize state-of-the-art tools and technologies to restore proper function to your AC unit, giving you one less thing to worry about.
We understand the importance of a functioning AC system, especially during the hot summer months, and are committed to providing efficient and effective repairs to ensure your comfort is restored properly. Whether it's a minor repair or a complex issue, you can rely on our team to deliver professional and dependable service that exceeds your expectations.
Call (239) 893-7560 or contact us online to schedule a professional AC repair.
Signs You Need AC Repair
It is crucial to schedule an AC repair at the first sign of a problem to avoid further damage and costly repairs. By addressing issues early on, you can prevent minor problems from escalating into major breakdowns. Regular maintenance and timely repairs help ensure that your AC system operates efficiently and effectively, providing optimal cooling and comfort.
Below are 8 signs that may indicate the need for AC repair in Fort Myers:
Insufficient cooling: If your AC is struggling to cool your space adequately or there are noticeable temperature inconsistencies, it may indicate a problem with the system that requires repair.
Weak airflow: If there is weak or limited airflow coming from your vents, it could be a sign of a clogged air filter, a malfunctioning blower fan, or blocked ductwork that needs attention.
Strange noises: Unusual noises – such as grinding, squealing, rattling, or banging – coming from your AC unit can indicate mechanical issues, loose components, or motor problems that need to be addressed.
Foul odors: Persistently unpleasant odors from your AC system may be a sign of mold, mildew, or bacterial growth within the unit or ductwork, requiring professional cleaning and repair.
Frequent cycling: If your AC system frequently turns on and off without completing a full cooling cycle, this could be a sign of an underlying issue, such as a faulty thermostat, refrigerant leak, or sensor problem.
Water leaks: Any signs of water leakage around your AC unit or excessive condensation could indicate a problem with the condensate drain line, refrigerant leak, or a malfunctioning component that needs immediate attention.
High energy bills: A sudden increase in energy bills without any change in usage habits could suggest that your AC system is not operating efficiently, potentially due to a malfunction or lack of maintenance.
Ice buildup: The presence of ice or frost on your AC unit or refrigerant lines can indicate airflow restrictions, refrigerant leaks, or other issues that may require professional repair.
Tips for Preventing AC Repairs
While the occasional AC repair is nearly unavoidable, there are ways that you can significantly reduce the risk of system repairs and breakdowns. Through careful maintenance, you can keep your AC unit running better for longer.
Here are our best tips for preventing AC repairs:
Keep it clean: Regularly clear debris, leaves, and branches away from the AC unit to ensure proper airflow and ventilation.
Schedule maintenance: Keep up with regular AC maintenance, including scheduled service and professional checkups.
Change your filter: Replacing your air filters regularly can help you maintain proper airflow and prevent clogging.
Install a smart thermostat: Consider installing a smart thermostat to optimize energy usage and prevent unnecessary strain on the AC system.
Watch out for problems: Pay attention to any changes in your AC system's performance and address them promptly to prevent further damage.
Following our tips and tricks can not only reduce the risk of AC repairs but also prolong the lifespan of your system. Give us a call to learn more about how our team can take care of your system through our Comfort Club maintenance program.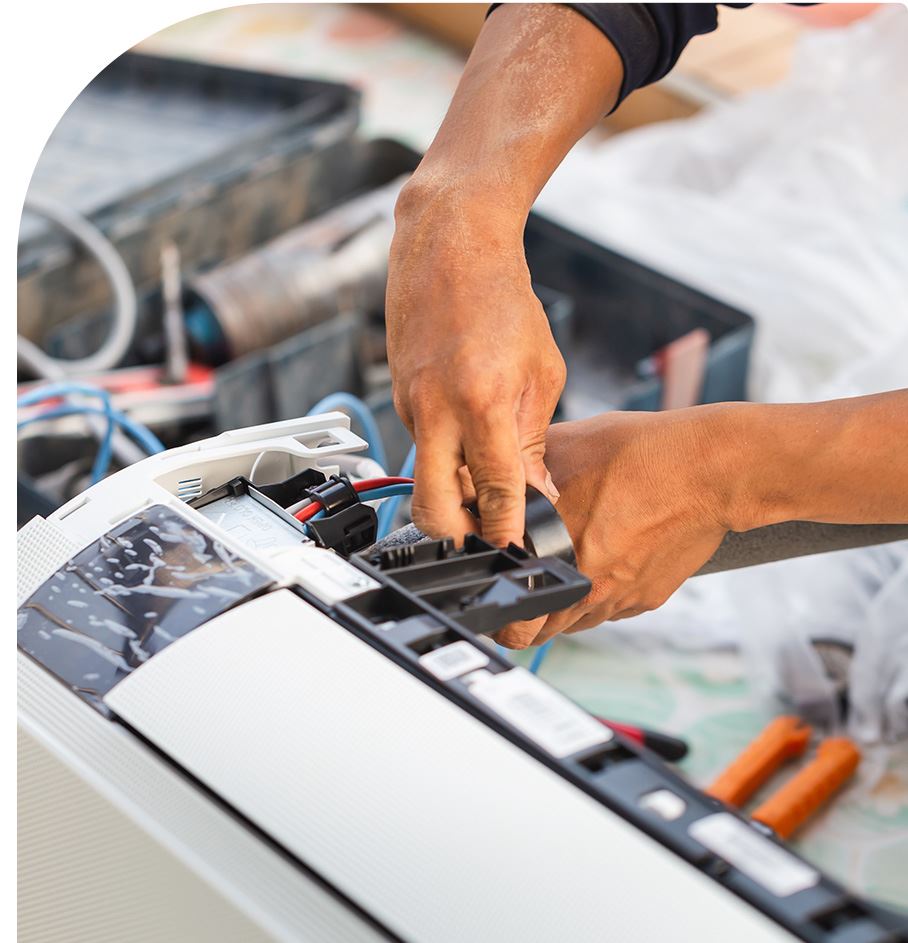 Why Choose Allied Air Services?
24/7 Help Available

We're here to help you whenever you need us.

Financing Options Available

We offer a variety of options. Call to learn about the details.

Insured for Your Peace of Mind

Entrust your HVAC needs to licensed, insured professionals.

100% Satisfaction Guarantee

We're so confident you'll be happy with our services, we guarantee it.
There for You When You Need Us
At Allied Air Services, nothing matters to us more than your comfort and safety. If you are experiencing an air conditioning emergency that puts your home or loved ones at risk, we are here to help. We offer same-day and 24/7 emergency HVAC services, ensuring that we are there for you when you need us the most. Our highly skilled technicians are equipped with fully stocked trucks, enabling us to efficiently diagnose and resolve your AC issues. We prioritize prompt response times and work quickly to get to the bottom of the problem, providing you with reliable solutions and restoring comfort to your home in no time. With our team on your side, you can trust that we'll be there for you, day or night.
Contact us online or call (239) 893-7560 for fast air conditioning repairs in Fort Myers.