Fort Myers Thermostat Services
HVAC Experts Serving Cape Coral, Bonita Springs & Surrounding Areas
A properly functioning thermostat is crucial as it ensures efficient temperature control, optimal comfort, and energy savings in your home. Make sure your thermostat is in good hands by turning to Allied Air Services for any repairs, replacements, or installations you might need. Our highly trained heating and air conditioning technicians offer comprehensive thermostat services to keep your home running smoothly and your family comfortable. We have extensive experience installing and servicing all types of thermostats, including non-programmable, programmable, Wi-Fi, and smart thermostats.
When you want the job done right, turn to our licensed and insured technicians. We adhere to the highest standards of workmanship and never cut corners or settle for work that is "good enough."
Call (239) 893-7560 for thermostat services in Fort Myers.
Signs You Need to Repair or Replace Your Thermostat
Repairing or replacing your thermostat in a timely manner is important to ensure energy efficiency and maintain comfortable living conditions. A malfunctioning thermostat can lead to inconsistent temperatures, high utility bills, and unnecessary wear and tear on your heating and cooling systems. By addressing thermostat issues promptly, you can restore proper functionality and avoid potential discomfort and financial expenses in the long run.
Here are some warning signs you need to schedule a thermostat service in Fort Myers:
Your heating or cooling system does not turn off properly
The temperature reading on the thermostat is incorrect or inconsistent
You notice a recent spike in your energy bills without any apparent explanation
There are constant temperature shifts or fluctuations in your home
Your HVAC system keeps turning on and off frequently
Your thermostat is older than 10 years
Your HVAC equipment does not respond to temperature adjustments
Your HVAC system does not start
Don't ignore the signs that something is wrong with your thermostat – turn to Allied Air Services to have the problem taken care of as quickly as possible. We are familiar with all makes and models of thermostats and can handle any repair, replacement, installation, or maintenance service that comes our way.
What Are the Benefits of Programmable Thermostats?
Programmable thermostats offer multiple benefits, including energy savings, increased comfort, convenience, improved temperature control, cost savings, and environmental sustainability.
Consider some of the greatest benefits of programmable thermostats below:
Energy savings: Programmable thermostats allow you to set specific temperature schedules throughout the day, which can reduce energy consumption and lower utility bills.
Increased comfort: With programmable thermostats, you can set different temperature settings based on your daily routines, which ensures your home is always at the desired temperature when you need it.
Convenience: Automation features in programmable thermostats allow you to set temperature adjustments in advance.
Cost savings: By reducing energy consumption, programmable thermostats contribute to long-term cost savings. With proper usage, they can significantly decrease heating and cooling expenses over time.
Ready for a programmable thermostat? Our team has access to a variety of thermostats designed to enhance your comfort, efficiency, and savings. Give us a call to learn more!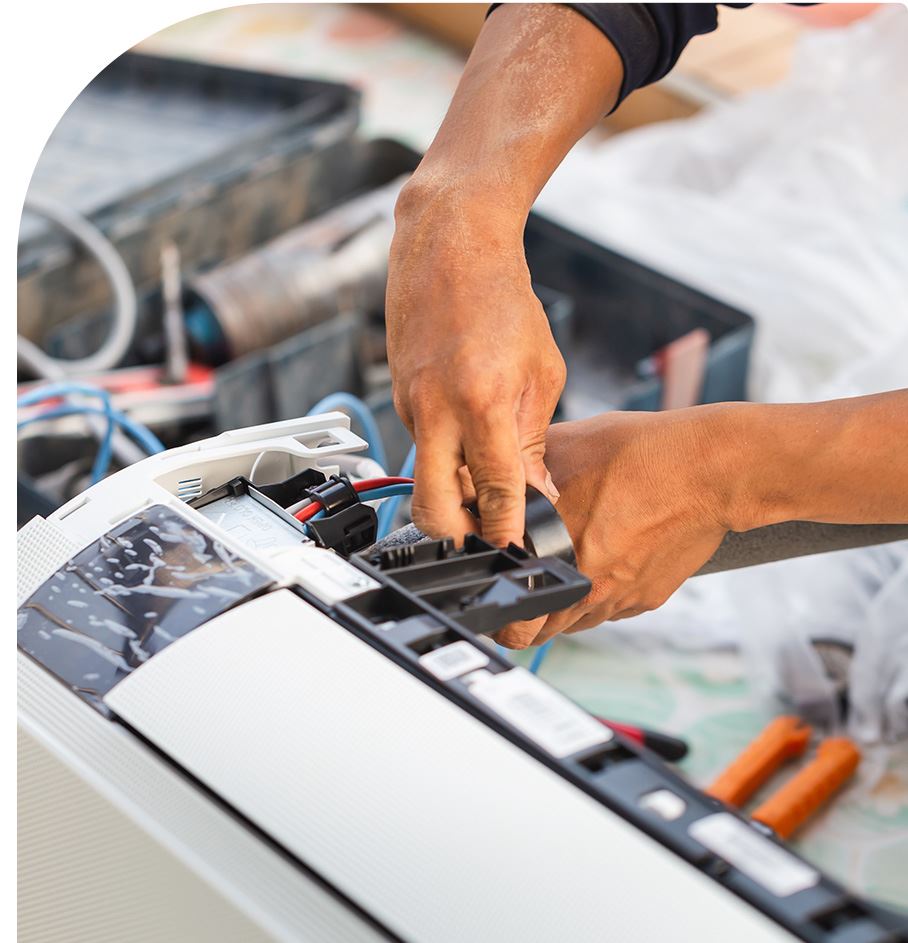 Why Choose Allied Air Services?
24/7 Help Available

We're here to help you whenever you need us.

Financing Options Available

We offer a variety of options. Call to learn about the details.

Insured for Your Peace of Mind

Entrust your HVAC needs to licensed, insured professionals.

100% Satisfaction Guarantee

We're so confident you'll be happy with our services, we guarantee it.
What Is the Life Expectancy of a Thermostat?
The life expectancy of a thermostat is typically around 10 years. However, this lifespan can vary depending on factors such as the make, model, and type of thermostat. Some thermostats may last longer with proper maintenance and care, while others may need to be replaced sooner.
Not sure whether or not your thermostat needs to be replaced? Reach out to Allied Air Services for an inspection. We provide a detailed report of our findings, which includes our recommendations for repair or replacement.
Call Allied Air Services!
If your thermostat is unresponsive, leaving you without access to your heater or AC in extreme weather conditions, Allied Air Services is here to help. Our team is committed to being there for you when you need us most, which is why we offer same-day and 24/7 emergency HVAC services. No matter the time of day or night, we arrive in fully stocked service vehicles, ready to diagnose and repair your thermostat problem.
Call (239) 893-7560 for fast and reliable thermostat services in Fort Myers. We can also be reached through our online contact form.